Formerly AsiaBattery Sourcing Fair (GBF ASIA).
Date: August 16th-18th, 2020
Venue: China Import & Export Fair Complex
Address: No. 380, Yuejiang Zhong Road, Guangzhou, China
Website: http://www.battery-expo.com/index.php?lang=en
China Primed to Lead the Way in Global Battery Market
As is known, China has become the world's largest lithium-ion battery manufacturing country since 2018. It is predicted that by 2020, China's battery capacity will account for more than 70% of the global market, and lithium-ion battery output will reach 205.33 GWh by 2020, with a CAGR of 41.88% in the next two years.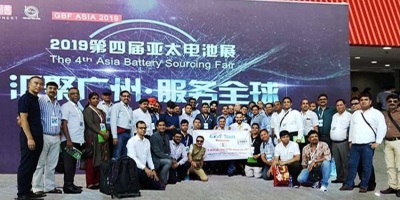 Preview of WBE 2020
The 2020 show plans to fill a 40,000 sq.m show floor with 600+ exhibitors, mainly focusing on Battery, Battery Equipment, Battery Materials and Accessories. It has so far attracted many big brands as its exhibitors in the past few years, such as CATL, CALB, BAK, Lishen, Sunwoda, Tinci, XCJ, Aoyou Power, Sinowatt, Cham Battery, Xupai, Great Power, Rovilus, Mikrouna (Germany), Hugo Benzing (Germany), Master (Korea), TNS (Korea), 3M (USA), Ascend Performance Materials (USA), BRY-AIR (India) and etc.
What's more, 2020 World Battery Industry Expo will be an other highlight, starred by 20+ worldwide experts, talking about market entry strategies for different markets!
Review of WBE 2019
Hosting 400+ exhibitors and occupying 25,000 sq.m exhibition area, WBE 2019 registered more than 25,000 visits in 3 days, well deserved the name of China's Biggest Battery Trade Show in 2019, attracting quality buyers from more than 30 countries and regions, including USA, Germany, Japan, Korea, Canada, India, Indonesia, Malaysia, Thailand, France and etc.
Exhibition Scope
Various kinds of batteries
Combined batteries for cellphones, interphones, cordless telephone, laptops, digital cameras, portable DVD, emergency lights, electric toys, UPS, railway locomotives and passenger cars, ships, etc.
Power batteries and management systems for electric tools, electric bicycles, electric vehicles, etc.
Energy storage batteries for wind power generation systems, solar photovoltaic systems and wind-solar hybrid systems, etc.
Power storage application and engineering
Battery materials and accessories
Battery manufacturing equipment and testing devices
Super capacitor
…
If you are interested in exhibiting or visiting, please let us know through the given contact below!
WEB Overseas Committee
Contact Person: Shalynn Ji
Tel: 86-20-28966533
Fax: 86-20-36657099
WhatsApp/Mob: 86-13060805025
E-mail: shalynn_ji@outlook.com Website: www.battery-expo.com